"Champion Cyclist of the World"
11.12.09
Recent work commitments led me to the Cynon Valley Museum and Gallery at Aberdare. It was a visit which allowed me to reflect on the career of Arthur Linton, the world renowned cyclist who returned to Aberaman in 1894 as "Champion Cyclist of the World". Arthur Linton was honoured again recently when a Blue Plaque was placed on the wall of his family home at Aberaman. The Cynon Valley Leader reported on a ceremony at St Margaret's Church "where a stained-glass window and a lectern had previously been unveiled in his memory".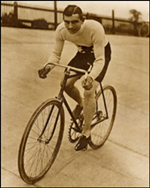 Riding a Gladiator cycle, Linton came to the fore with a famous win over the reigning French champion, Dubois, under the guidance of his coach "Choppy" Warburton. Soon after came a narrow defeat to the Italian champion Bonnic who refused to race him again – thus his reputation was sealed. On returning to a hero's welcome a memorable banquet was held at The Lamb and Flag public house.
The following year was not as successful with Arthur splitting from his trainer and suffering a knee injury, however, in 1896 he won the prestigious 60-mile Bordeaux to Paris Race – his greatest achievement. Sadly, the cyclist succumbed to typhoid fever and died in June of that year, a mere six weeks after the race, aged just twenty-four.
The placing of the Blue Plaque on his home is part of a £50,000 heritage project  to "identify icons, events and buildings, culminating in the placing of blue plaques to commemorate their history and achievements". In paying tribute to Arthur Linton, the mayor of Rhondda Cynon Taf, Robert Smith, declared that the Champion Cyclist "was certainly one of the proud sons of Aberaman and the whole of Rhondda Cynon Taf due to his incredible prowess as a world-class cyclist".
Blaenau Gwent sports historian Stuart Stanton gave homage to the cyclist at the ceremony: "More than a century following his tragic demise which robbed Wales of a champion son, many people will pass his former home and on seeing the Blue Plaque... be inspired into finding out more about this outstanding individual".
On 30 October 2009, Geraint Thomas, the first Welsh cyclist to compete in the Tour de France since legendary Colin Lewis in 1967, recorded the fastest pursuit time at the 2009-2010 UCI Track Cycling World Cup Classic at the Manchester Velodrome. He completed 4 kilometes in 4 minutes 15.105 seconds – a time only bettered by Chris Boardman when he was using a technique which has now been banned. In the past Boardman had stated that "Geraint keeps surpassing people's expectations" and it seems  that moving from his present team to Team Sky at the end of the year could be the springboard to Geraint becoming the "Champion Cyclist of the World!".
Dilwyn Roberts-Young