Time-Travelling Troubadour
25.08.10
Separado!
Directors: Dylan Goch, Gruff Rhys
84 minutes
UK, Argentina, Brazil
At one point in Separado!, Gruff Rhys observes that the Welsh obsession with Patagonia has led to something of a "Welsh media gang bang", resulting in numerous television programmes and books dedicated to exploring the South American region's history and its relationship with Wales. Separado!, however, is a documentary with a difference, as the Super Furry Animals frontman travels to Patagonia in search of his long lost cousin, René Griffiths, a poncho-wearing, gaucho troubadour, who appeared on Welsh-language television in the 1970s, singing Latin American-style songs in Welsh. As an infant, Rhys watched and admired this unique figure on television, and was particularly fond of his spectacular entrances, which included arriving on stage on horseback. Co-directed by Dylan Goch and filmed in Welsh, Spanish, Portuguese and English, Separado! documents Rhys's search for his relative, as well as his attempts to promote his Welsh-language album, Candylion (2007) — the soundtrack is dominated by the song, "Gyrru Gyrru Gyrru" (Drive Drive Drive) — and his encounters with some weird and wonderful people in South America.
The film begins with a recreation of an event from 1882, in which a Bala farmer named Dafydd Jones — great-grandfather of René Griffiths and, therefore, a distant relative of Gruff Rhys — caused the untimely death of his cousin by rigging a horse race. Jones apparently escaped his family's ignominy by fleeing to the "Wladfa Gymreig" in Patagonia, the Welsh-language settlement established by Michael D. Jones in 1865. Gruff Rhys's aunt explains this family history to him in a scene reminiscent of the BBC's Who Do You Think You Are?. Indeed, it could be said that Separado! represents an extremely eccentric version of that family history show.
Rhys has two primary modes of transport on his travels around South America, the most conventional of which is a clapped-out blue van without a gearbox. His second, more idiosyncratic means of travel consists of donning a red Power Rangers-style helmet that "teleports" him from place to place. Before zapping himself to Patagonia, Rhys visits Rio Grande do Sul in Brazil, where Thomas Benbow Phillips established an earlier Welsh-language settlement in 1852. Here, Rhys meets the remarkable (he really does need to be seen to be believed) Tony da Gatorra, a Brazilian protest singer and TV repairman, and inventor of his own "musical" instrument, the Gattor, a strange guitar-cum-drum machine. Rhys's collaborative album with da Gatorra, The Terror of Cosmic Loneliness, was released on 26 July, but, if their jamming session in Separado! is anything to go by — "What's the key?" asks Rhys; "No, just rhythm", replies da Gattora — it will take the most acquired of tastes to appreciate its contents.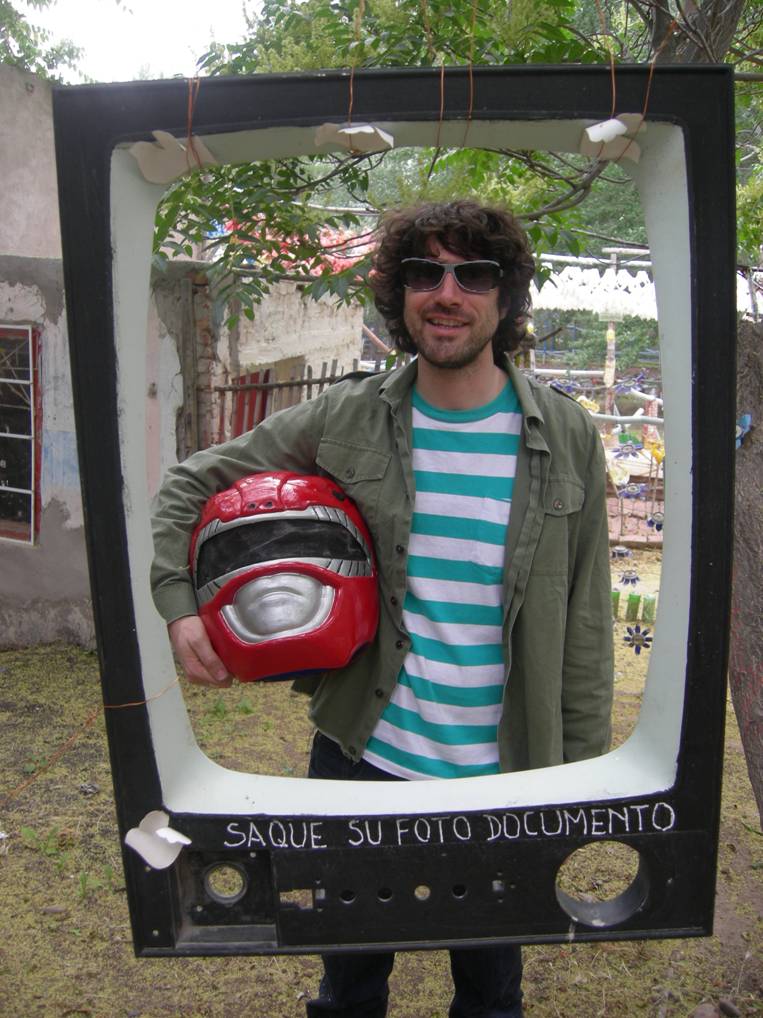 Such quirkiness certainly contributes to the film's appeal, but it is not without its more serious moments. It contains, for instance, plenty of informative material on Patagonia's historical and present-day struggles. The original 153 settlers in 1865 were led to believe that their new home would provide a welcome escape from the hardships of nineteenth-century Wales, only to find upon their arrival in the Chubut Province that the land was arid. We also learn of Argentine President General Roca's Conquest of the Desert in the 1870s, which aimed to achieve dominance over the indigenous peoples of Patagonia — it is suggested that, prior to this, the Welsh settlement and the natives lived peacefully side by side. Moreover, we discover that the town of Trelew, named after Lewis Jones, one of the Wladfa's founder-members, is now remembered for a 1972 massacre in which 16 students were killed by a military junta, rather than for the Welsh origins of its name.
Rhys meets numerous bilingual Welsh-Spanish speakers during his journey, including ninety-six-year-old Bryn Griffiths (he has since passed away and the film is dedicated to his memory), who tells our guide that the secret to a long life is to never smoke in bed! Rhys even plays a gig at a Patagonian Welsh-language community hall, and his audience look suitably bemused when he performs one song wearing his Power Rangers helmet and blowing into what looks like an orange cone (one member of the audience comments on how different Dafydd Iwan's performance was when he visited them years ago).
Rhys's search for René Griffiths takes him to the foot of the Andes, where he meets the handsome young farmer-singers, Leonardo and Alejandro Jones, who are as much at home singing beautiful Argentinian country duets as they are bawdy Welsh-language songs, such as "Pwdin Blew" (a vulgarism, meaning "vagina"). Rhys's journey ends quietly at the former home of Butch Cassidy, where he serenades a horse before teleporting himself back to Wales.
Billed as "Star Trek meets Buena Vista Social Club" and a "psychedelic western musical", Separado! is probably the most outlandish travel documentary you are ever likely to see. As for whether Gruff Rhys finally manages to track down his long-lost cousin — you'll just have to watch the film to find out...
Owain Wilkins