Planet New Writers' Competition
We are happy to announce the launch of the 2023 Planet competition for new writers!
Are you a writer or journalist who has never published a book? Whatever your age you are welcome to anonymously enter our article competition!
Perhaps you have been published before online, in a magazine, or even in an anthology – or perhaps not – as long as you have never published a book under your name we would be delighted to read your work.
For over fifty years, Planet has fostered new writers of all backgrounds, who have often gone on to become widely published, and our new competition continues this tradition. You can find out more about the new writers we have recently published here: https://planetmagazine.org.uk/Planet-Extra/New-writers
Deadline: 1 September 2023
Word-count: 1,500 – 2,000 words
Prizes:
£200
A year's subscription or renewal
A range of 6 books* published by Planet
Publication of the winning essay in the November 2023 issue of Planet, and on Planet Extra 3 months later
Runners-up will receive a year's subscription or renewal
* Range of books are: The Breathing, The Red Jag, On a Bender, The Wind Itself, Morgan Bible and Summer Journal.
What kind of writing are we looking for?
The brief is extremely broad – the best guide for the kind of material we would be keen to publish is found in Planet itself. We would welcome creative and unconventional ways of exploring the essay form as well as a more traditional style. Planet features writing which is in-depth, yet sufficiently accessible for a non-specialist readership. What we are looking for most are lively, well-crafted essays which leave a lasting impression. We would especially welcome submissions that relate to Wales in some way, however obliquely.
In order to maintain strict anonymity, we will not be able to answer any queries relating to the content of potential submissions.
About Planet
Planet: the Welsh Internationalist is an English-language magazine which has been offering an independent approach to Wales and the world since 1970. Planet plays a vital role in Welsh culture and civil society and has three major roles which make it unique: bringing together writing on Wales and the rest of the world; bridging English and Welsh-speaking Welsh culture; and gathering together subjects as diverse as politics, the arts, social issues, literature, popular culture and the environment.
Submission guidelines
In order to submit your article anonymously, please email your article as an attachment to [email protected] File formats we accept are Microsoft Word and Open Office. Please do not give your name or contact details on the attachment.
In your covering email, please give your full name, the email address you would like to contacted at should you win and an alternative contact (phone number or address). Submissions will be printed off for the Panel, so your name won't be disclosed within the electronic file.
Terms and conditions
To be eligible as a new writer you would need to have never published a book or play under your own name (single or multi-authored). You would not be eligible if you had published a book under a pseudonym. If you have published work online, in a magazine or as part of a book anthology (where you are not an anthology editor) you would still be eligible. If you have self-published a book you would still be eligible.
The Panel consists of Planet staff.
While we would welcome submissions on the topic of Welsh-language culture or politics, as in the magazine as a whole, all submissions should be in English.
While we would welcome approaches that bring in creative non-fiction elements like memoir, entries must be totally non-fictional.
All entries should be submitted completely anonymously. In order to maintain strict anonymity, we will not be able to answer any queries relating to the content of potential submissions.
The judges' decision is final.
Please note that Planet reserves the right not to award the prize.
The winning submissions will be edited along the same standards as other material we publish.
Entries must not have been published elsewhere.
You can read the winning article in the 2022 New Writers' Article Competition here.
The 2021 winning entry by Phil Jones can be found here.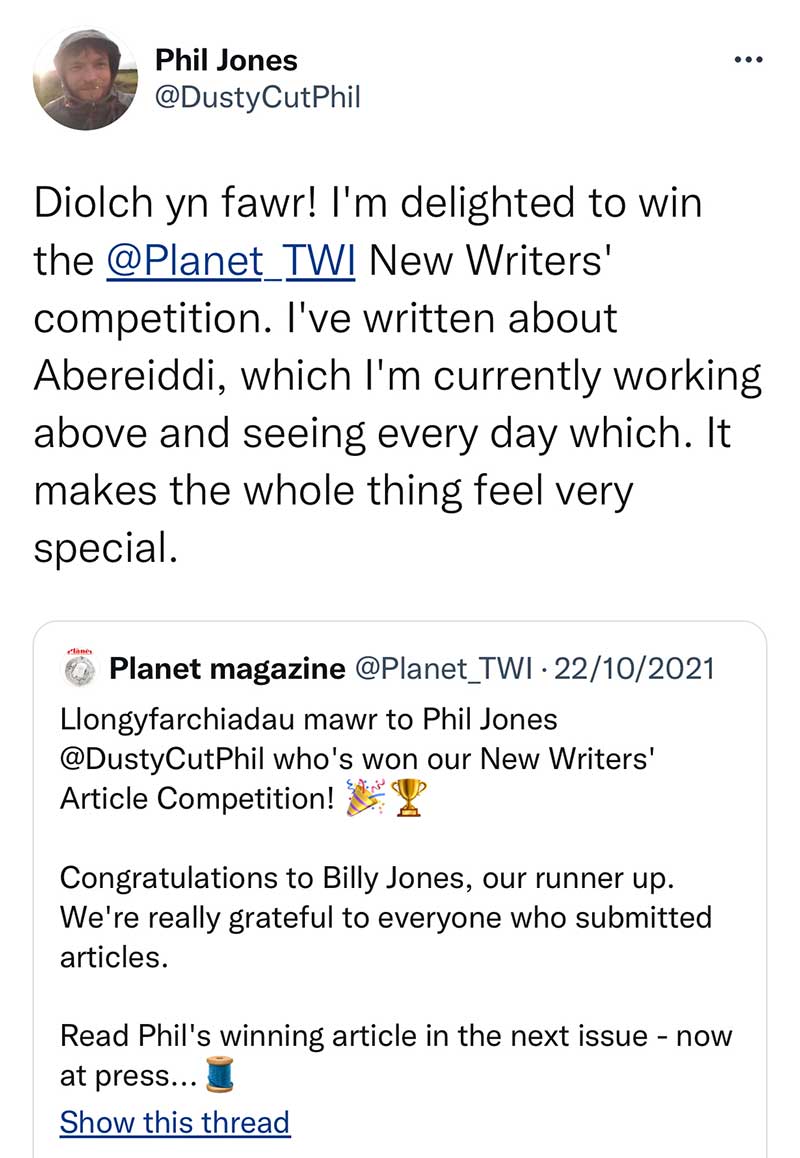 Tweets about our winners of our previous Young Writers' Competition & their winning entries
Before 2021, our annual competition was only open to writers under 30. You can read more below.
You can read Harry Waveney's winning essay in our 2020 Young Writers' Competition here
The winner of our 2019 competition subsequently won the PEN Wales Cymru Emyr Humphreys Award for his Planet essay!
You can read Mark's article here
You can read Rebecca's article here
'I was proud to win the Young Writers' Prize last year with a piece that I felt passionately about. I have now been offered a publishing deal on the back of Planet's award, for which I will always be grateful.'Siôn Tomos Owen, winner of our 2014 Young Writers' Prize (read his article here)
You can read Hannah's article here
You can read Miriam's article here
You can read Polly's article here
'Time and again the magazine has taken me upwards and outwards from the fulcrum of Wales to the furthest reaches of discussion and discovery.'Jan Morris
Planet is financially supported by the Books Council of Wales.